Power of the Brush – From the Golden Age to contemporary art
The Tampere Art Museum autumn exhibition Power of the Brush presents Finnish expressionism and free pictorial art from the Golden Age to contemporary art. Expressionists who were influential in Europe from the beginning of the 20th century expressed subjective emotions and inner experiences in their art. The artists in the exhibition share the characteristics of an expressive style of painting and use of the brush free of rules. The exhibition includes works by artists such as Helene Schjerfbeck, Ellen Thesleff, Fanny Churberg, Akseli Gallen-Kallela, Tyko Sallinen, Jalmari Ruokokoski, Esko Tirronen, Kimmo Kaivanto, Teemu Saukkonen, Leena Luostarinen and Henry Wuorila-Stenberg.
Early 20th century expressionists originally wanted to express their inner experiences in their art. In their paintings, wild forms and strong colours were combined with strong brush strokes. The artists selected for this exhibition have transformed expression in Finnish art and introduced new contents and approaches to it. In her expressiveness, Fanny Churberg, for example, was ahead of her time as a strong interpreter of landscapes in the 1870s. At the beginning of the 20th century, Ellen Thesleff's dynamic art consisted of mental expressionism and colour art. Helene Schjerfbeck's early expressive portraits and still lifes exhibit a strong life force, boldness and a modernist style. The November Group of artists founded in 1917 gave rise to pioneers of expressive art, such as Tyko Sallinen, Jalmari Ruokokoski and Ilmari Aalto. Their influence is still visible in artistic life in Finland. In the 1960s, free pictoriality was represented by informalist painting, and the 1980s saw a new emergence of expressive painting. The exhibition ends with an introduction to contemporary painters in whose output free pictoriality is alive in its various forms. These artists include Viljami Heinonen, Emmi Kallio, Sampsa Törmälehto, Henrika Lax and Andre Peterdi.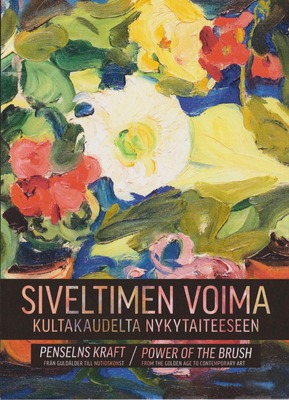 Art in Transformation
The exhibition Art in Transformation was accompanied by the publication of a book by Maaretta Jaukkuri, Muutosten pyörteissä – Suomalaista kuvataidetta 1960-80-luvuilla ('Art in Transformation – Finnish Visual Art from the 1960s-80s').
The Art in Transformation book brings to a close the Association's series of chronological publications. Our Pictures has as its theme the Golden Age of Finnish art from the 1850s to the early 1900s, Two Faces of the Modern showcases the art of the 1920s and 1930s, and Constructors of Light presents post-war art from the 1940s and 1950s.
The exhibitions and the books have focused attention on less-researched periods in the history of Finnish art. Maaretta Jaukkuri's book is the first comprehensive account of the development of Finnish art from the 1960s to the end of the 1980s.
Costructors of Light
Constructors of Light book is written by art historian, Doctor of Philosophy Erik Kruskopf, who creates an interesting review of the visual art and artists in the 40's and 50's. The book is published by the Finnish Literary Society (SKS).